How to Reach Us
Contents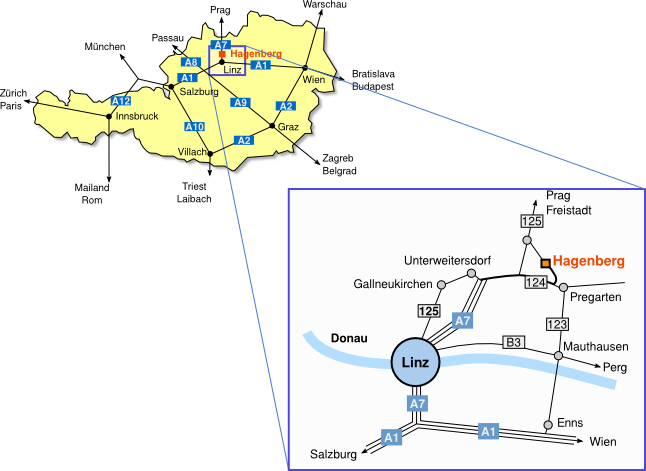 Where is RISC
RISC is located in Hagenberg im Mühlkreis, a village about 20 km from Linz, the capital of Upper Austria.
View an annotated map of Hagenberg.
Travel to Linz
By plane:


Linz has an international airport (LNZ) with connections to Düsseldorf, Frankfurt, London, Palma de Mallorca, and Vienna (summer flights 2013). For the possibilities to get from the airport to Linz center, please check the approach and parking section at the airport Web page. Note that there is no bus connection between the airport and Linz on Sunday. Taxi from the airport directly to Hagenberg costs approximately 80 Euro.
Other international airports nearby Linz are Vienna (VIE, 2 hours by train/car) and Munich (MUC, 3 hours by train/car). If you arrive in Vienna, take the Vienna Airport Lines bus to Vienna West train station (Wien Westbahnhof) and then continue by train. The bus stop is right in front of the airport arrivals hall.

By train:


Linz can also be conveniently reached by train from Vienna, Salzburg, or Munich. Train connections can be looked up from the Austrian Railways Web page.

More Information:

Travel to Hagenberg
By public bus (recommended):


There are several buses to Hagenberg each day, leaving from the bus terminal near the main railroad station (Hauptbahnhof/Busterminal) and from the Altenberger Straße near the Johannes Kepler University and the Sommerhaushotel Linz. During the day, there is a bus every one to two hours, the trip takes 35-45 minutes.
Take a bus to Freistadt that goes via Hagenberg.

Schedule of buses from Linz to Hagenberg and back

is available online. Enter "Linz Hbf" and "Hagenberg im Mühlkreis Ortsmitte" into the "From" and "To" fields, respectively.
The buses No. 310 and 311 leave from the platforms C4-C5 of Linz bus station, that is located next to Linz main train station, Linz Hauptbahnhof (from the main entrance/exit of the Hauptbahnhof turn immediately right and walk 100 m to get to the bus station).
The bus ticket can be purchased from the driver, and it costs 4.60 Euro, single fare.
The bus passes near the hotel Arcotel (bus stop Untere Donaulände, in front of the Lentos Museum) and not very far from Hotel Sommerhaus Linz (bus stop Altenberger Straße).
When in Hagenberg, leave the bus at the stop Hagenberg Ortsmitte (in front of the school,  Volksschule) and walk 100 m towards the church/castle to get to RISC, or 300 m on the street and then turn left at a big white billboard with the number 2 on it to get to Hotel Sommerhaus. See the directions on the

map of Hagenberg

.
Download the

bus timetable Linz-Hagenberg-Linz

.
Starting from fall 2009, there is a direct bus connection between Hagenberg and and the

JKU campus

. Buses run on weekdays (Mo-Fr) every hour and a ride takes about 25 minutes, see the detailed schedule. Note that the bus does not operate during school vacations.

By train:

By car:
Take the highway (Autobahn) to Linz, and there take the highway A7 to Prague (Prag in German). About 15km outside of Linz leave the highway at exit "Unterweitersdorf" and follow the signs to "Hagenberg" or "Softwarepark". About 1km before Pregarten turn left to Hagenberg.  Note that there is a road tax for using the Autobahn in Austria. You should have a special toll sticker at your windshield. They can be bought at any gas station. The prices can be seen

here

.
By taxi:
Taxi from Linz airport to Hagenberg costs approximately 80 Euro. From Linz city center/train station to Hagenberg the price is approximately 50 Euro.
Hotel in Hagenberg
Hotel Sommerhaus Hagenberg
Softwarepark 23
4232 Hagenberg
Telefon: +43 (0)7236 7973 9033
Telefax: +43 (0)7236 7973 39
Email: office.hagenberg@studentenwerk.at
Find Places in Hagenberg
View an annotated map of Hagenberg.
Hagenberg map

with restaurants and ATM machines. Note that the ATM machines in Hagenberg operate between 06:00-24:00.
Restaurants in Hagenberg


Schlossrestaurant. Opening hours: Monday, Wednesday-Friday 10:00-23:00, Saturday 17:00-23:00, Sunday 10:00-20:00. Closed on Tuesdays.
Hofwirt. Opening hours: Tuesday-Saturday 10:00-24:00 (hot meals 11:30-14:00 and 18:00-21:30). Closed on Sundays after 15:00 and on Mondays.
Horseman's Paradise. Opening hours: Monday-Saturday 16:00-02:00.
Gasthaus Lamplmair. Closed on Wednesdays.
Gasthaus Hametner. Closed on Tuesdays.
Cafe Monika. Opening hours: Tuesday-Sunday 08:00-04:00. Closed on Mondays.
Pizzeria Lavinya. Opening hours: Monday-Friday 11:00-09:00. Sunday 11:00-08:30. Closed on Saturdays.

Restaurants in Pregarten. Click on the green 'Find restaurant' button to get the list of restaurants.
How to leave us
From Hagenberg to Linz Train/Bus Station
From Linz to the Airport


Bus. It leaves from the stop Linz Hbhf Busterminal/Kärntnerstraße that is here (just opposite of the main train station entrance and in front of the "Bezirkshauptmannschaft").

Note that there is no bus connection between the airport and Linz on Sunday.

Use a taxi that you can find in front of the train station or take

Taxi Walter

(+43 (0)7263 7548 or +43 (0)664 105 21 45 (mobile)) from Hagenberg.